March Madness: Your One Shining Moment in Affiliate Marketing
•
March Madness is here. Usually, millions of US citizens would already be carried away by the college basketball frenzy taking place in the next weeks. Although the 2021 season has been slightly postponed due to COVID-19 limitations, March Madness always means a massive spike of interest in basketball sports events in the States. Almost as powerful as Super Bowl or Olympic Games.
What does it mean for affiliate marketers?
It's harvest time for sports betting campaigns, baby!
Read below and learn how to scale the sports betting vertical using all the media hype surrounding some of the biggest sporting events in the world!
Monday night in New Orleans, March 29th, 1982…
More than 61 thousand spectators in Louisiana Superdome are watching in ecstasy as the Georgetown Hoyas and North Carolina Tar Heels are going neck and neck in the final game of the season.
Less than 20 seconds to the end.
Georgetown Hoyas lead by one. A skinny kid gets the ball. He shoots a 16 foot jumper from the left baseline. Nothing but net! 63:62 for North Carolina! A moment later Hoyas point guard Fred Brown losses the ball. It's over! Tar Heels are the NCAA champions! That skinny, cold-blooded kid's name is Michael Jordan. The rest is history.
Do you know what we mean by March Madness, now?
Why Is March Madness Such a Big Deal? Why Should Affiliate Marketers Care?
If you're still wondering why affiliate marketers should care about a hoop tournament for students, here's why.
Because it has nothing to do with a typical academic sports event. It's a fully professional one, with massive audiences, huge ad spending, and a noticeable impact on the Final Four host city economy (some estimates that when San Antonio held the game, it could have gained $135-185 million). We'll talk about money later on.
What's more, the usual basketball fiesta lasts a couple of weeks, from Selection Sunday (March 17th) till the Final Four (April 6-8th). It's a long term opportunity for affiliate marketers.
But NCAA tournament is much more than basketball. It's a sociological phenomenon in the USA. The nationwide character of the competition gives millions of current students and graduates the opportunity to show off their school pride.
Being a dedicated supporter is a full-time job. Increased number of sick days, longer lunch breaks, watching games online during working hours, and checking live scores on all possible devices instead of working. That's a regular part of the landscape in many US-based companies during these days. No affiliate marketer can afford to neglect it.
How to Monetize Sports Betting Frenzy Before March Madness?
Crowds of basketball fans not only cheer for their team. They also compete with each other (to get some extra cash too) completing online or printed brackets – predicting the outcome of each of the nearly seventy tournament games.
Each year tens of millions of Americans participate in such competition. Students fill out brackets, their teachers fill out brackets, sports analytics fill out brackets. Even… the president of the United States does so.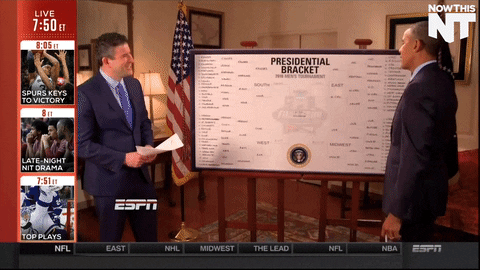 Of course, traditional betting blooms in March as well.
According to an online survey conducted by Statista before 2017's March Madness games, 43% of respondents planned to place bets. It is estimated that Americans bet more than $10 billion on tournament games every year.
Yes, March Madness is definitely worth its nickname — even if the 2021 edition would be more like May or July Madness.
Play Fair During March Madness… Or Forever Lose Your Profits.
Speaking of big money, take a look at the ad revenue generated by the tournament.
The figures doubled in ten years from $648 million in 2008 to $1.285 billion in 2017. As pointed out by Kantar Media, March Madness is the second most profitable sports events in the US, exceeded only by the Super Bowl ad fever ($1.547 billion in 2017).
No wonder it's harvest time for performance marketers.
Ready for easy earnings? Better hold your horses, cowboy.
Even though during March Madness there is an overwhelming amount of money on the stake, affiliates need to play fair and be extremely creative – as they're not an official NCAA partner – to get their share.
In 2017 the NCAA for the first time surpassed $1 billion in revenue. For each dollar earned, 75 cents came from the 2017 NCAA tournament. Some analysis states, that advertising, and marketing activities related to March Madness cover more than 85% of the NCAA's yearly budget.
This is why the NCAA lawyers do all they can to protect their employer's money.
What Affiliates Need to Know About NCAA Trademarks
If you want to make profits during March Madness, you should be aware of the NCAA trademarks and strict organization policy.
As explained by the NCAA:
"In conjunction with its championships, the NCAA has developed licensing and marketing programs that make use of the NCAA's trademarks and championships marks. Such programs are carefully controlled and aggressively protected to be consistent with the purposes and objectives of the NCAA, its member institutions and conferences and higher education."
What does it mean for your business? Simply put, March Madness is a catchy and irresistible phrase, but you can't use it in your campaigns without permission. And it's just one example of many trademarks registered by the organization.
March to the Madness, March Mayhem, Midnight Madness, Final Four, Final 4, Final Four Friday, Road to the Final Four, F4, NCAA, NCAA Basketball, NCAA Championships, The Big Dance, NCAA Sweet 16, Selection Sunday or even… dribble — these are all trademarks registered by the NCAA. You can find full list of NCAA trademarks here.
Remember to double-check it before you make your campaign live. What's more, never use illegally an image of real NCAA athletes, as the courtroom is not the best place to make your affiliate magic tricks (NCAA photos phrase is also a registered trademark).
So what can you do to stay in the game? The answer is creativity. As filling out brackets is such a popular activity during March Madness, try bracket contest campaign – without, of course, using any of prohibited phrases. You can do the same by guessing the final score of a given game or picking up the tournament winner.
In order to protect their money and to avoid a scenario when the strength of one of its trademarks is weakened, the NCAA has a wide selection of law tools at its disposal – from cease and desist letters to federal lawsuits concerning trademark infringement.
What is more, the NCAA is strongly against using its trademarks or logo in any illegal activities related to gambling, sports betting campaigns, sweepstakes, office pools or contests.
Sports Betting Tips For Affiliate Marketing Ninjas
Are you discouraged? You don't have to. Take it as a challenge. Be smart, be creative, and do your best to outplay the competitors.
Before you start, keep in mind that March Madness is mostly a Northern American phenomenon. Even though the market is huge, it requires precise targeting. Set up broad RON campaigns for the USA or use adequate basketball-related keywords to get the most from your affiliate performance.
As you already know, sports betting campaigns are a safe choice around this kind of event, but other verticals usually tend to spike as well, like e-commerce, mobile app downloads, sport-themed sweeps or travel.
It's also a good moment to try pop advertising with live streaming sites. Just take a look at how college basketball streams are trending each year during March Madness in Google:
Pop also suits betting sites and basketball-themed keyword (such as basketball, streaming, live, watch, sports) campaigns. For keyword campaigns, you might try domain traffic too.
If you'd like to try still red-hot push ads, think about mobile betting apps and sweeps.
In terms of sports betting apps, our conversions would come along with sign-ups. Such deals reward a user with a bonus, and you – as an affiliate – with a payout. While setting up a campaign pay attention to catchy power words, such as "limited offers" and emojis.
---
Sports Betting Is Alive and Kicking! Do you wanna bet?
---
While crafting a push ads campaign for tournament-related travel offers, boost your conversions with an enticing image and emphasize the benefit with phrases like "exclusive offer" or "sale". In both cases remember about relevant b-ball emojis.
Key Takeaways
Sports betting during March Madness is a billion-dollar business.

Even though it's a big one, it's a US-only event. Target and optimize your campaign well.

Pick the best traffic type for your offer (e.g. push – betting apps, pop – betting sites).

Don't be afraid of testing – it's a good way to choose the best converting offer.

Be creative, play fair, and pay attention to the NCAA trademarks rules.
So the audience is there, the money is there, some tips are there. Are you going to take advantage of it?
Bring Your Affiliate Marketing Efforts
to the Championship Level