Authorized Credit Cards and Automatic Top Ups
The credit card gateway features:
Authorizing Credit Cards
Adding Multiple Credit Cards
Automatic Top Ups
Adding and Authorizing Credit Cards
To add and authorize a credit card, perform the steps:
On your dashboard, go to your payments tab and select + Add credit card.




You will then be prompted to add a name to your new credit card. Feel free to name your credit card your secret alter ego. Don't worry, we won't tell anyone.





Once you click the green Add credit card button, you will be taken to a page for the refundable $1 authorization charge. Don't worry, within a week you should see that $1 back in your account and you can treat yo'self at the 99cent store.





Once your credit card is authorized, you will be taken back to a confirmation page on your user dashboard.





Now, your credit card is added to your account. Every time you top up, you can select any saved credit card as your means of payment. Every additional credit card will also be charged the refundable $1 authorization.



Automatic Top Ups
You can use use the Auto top-up settings to automatically add funds to your account depending on your preferences.
Top up amount: The amount that will be charged to your credit card to top up your Zeropark account, when your account balance falls below the top up threshold
Daily top up limit: The maximum total amount that you would like to top up per day
Top up threshold: Your account will be automatically topped up when the balance falls below the top up threshold
Choose credit card: Select a credit card from your authorized credit card list, that will be used for topping up your account
---
Example:
In the below setting, the advertiser's account will be topped up $1000 every time the account credit goes below $200. However, if the account has already been topped up 5 times that day, it will hit the daily top-up limit of $5000 and wait until the following day to top up again.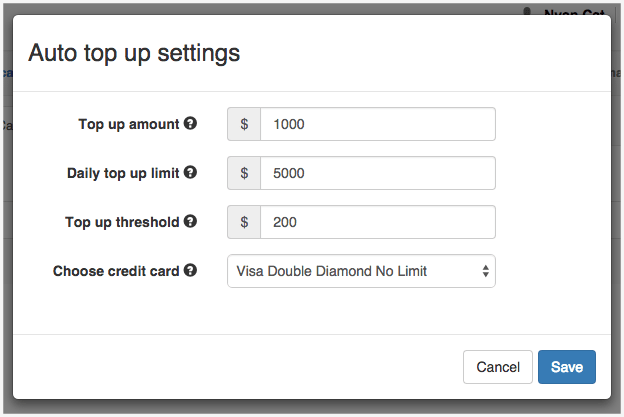 ---