Mobile OS Version Targeting
So imagine yourself promoting a newly made mobile game that consumes a lot of smartphone's resources. There is no need to show your ad to the users with the old versions of the phones. You will be looking for the guys with the new models, who are eager to test their phone's abilities with the games of the new generation. Or the other situation: you are having way too many non-converting clicks from the older OS versions, and you really want to propagate your ad offer to people with a newer version.

The Mobile OS Version Targeting answers your business needs. It is available for both new and old campaigns in Zeropark. Thanks to the Mobile OS Version Targeting you can reach only the users who actually can accept your offer. Shortly, you can cut down the OS versions you don't need in your campaigns and stop buying the traffic from them. That action can save your money at the same time you can use it for getting more valuable visits.

To define your Mobile OS Version Targeting for a given campaign, perform the steps:

Go to the campaign's view:
Either edit the existing campaign by clicking the Edit button on the campaign's Dashboard.





Or create a new campaign in Zeropark and follow the regular steps in the campaign's setup.




Click the Advanced button in the Traffic Filters section. That is the place where you can find Mobile OS Version Targeting options.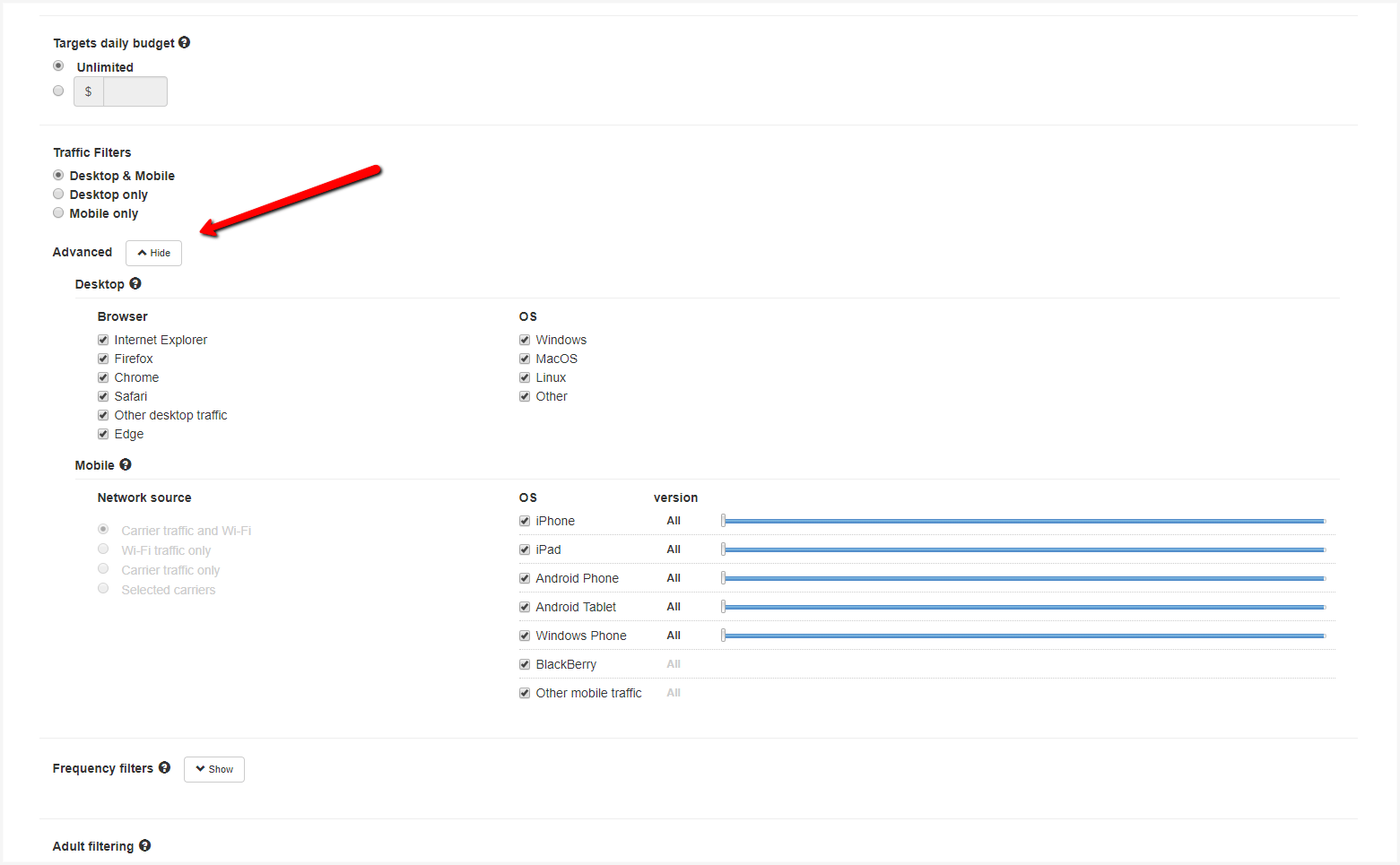 Select the lowest required version on the slider for a given operating system. The traffic you get will come from the mobile devices using the chosen version of the OS and higher. You can choose the settings for multiple operating systems for the same campaign.
Zeropark Note: Currently, the Mobile OS Version Targeting for iPhone, iPad, Android Phone, Android Tablet, and Windows Phone. Keep in mind that the narrower your targeting is, the higher will be the traffic cost, so don't forget to make amends into your bidding strategy as well.

Finish the setup to start running your campaign.