Native Advertising: 2023 update on what is native and why is it important in Commerce Media
•
Native advertising (or native ads) – the term has been present in the marketing and performance marketing world for a long time. But with the changing landscape of the entire industry native evolved as well.
For some professionals, native advertising is linked with the old times when site-embedded placements happened to be intrusive, and for most users, disruptive. But 2023 is a time to take a step back and look at Native from a completely new perspective.
A perspective that supports the flawless product research part of the shopping journey.
Stay with us to discover how Native placements can support the business-safe and user-friendly performance advertising strategy.
Native advertising in the old times
It's really bizarre to call something from 5 years back the 'old times', but in the e-commerce and ad-tech industry, the pace has been incredible lately. Native advertising has gone a long way since 2019, and we found that it would be of big value to recap and reconsider some of the ideas we all had back then.
Back in 2018, we highlighted how Native ads constituted about 20% of all advertising revenue – with nearly a twofold increase in just one year. And we have shown projections that it's supposed to grow even faster, reaching 74% by 2021.
The reality proved to be more fruitful for this branch of advertising, as only in 2021, the global spend on Native was $120 billion. And in 2023 it's projected to reach a staggering $99 billion in the US alone (Source: Insider Intelligence). So in short, a native renaissance is already underway.
Native ads are defined as involuntary, promoted content, which is displayed online in a non-disruptive manner. The goal of native ads is to take on the looks of their surroundings by appearing as relevant content.
Native Advertising Types
The governing body of online advertising, the IAB (Interactive Advertising Bureau) distinguishes three main kinds of native ads, also described as "The Core Three". Here's the complete rundown:
In-Feed/In-Content Native Advertising
In-Feed Native Ads are placements within feed sites that do mimic the design, layout, and aesthetics of a said landing page. On the user end, these seem organic and natural, blending with the editorial well, and what is most important, not disrupting the user experience. These ads can link to sponsored content, assume the form of an embedded video, or encourage you to download an app.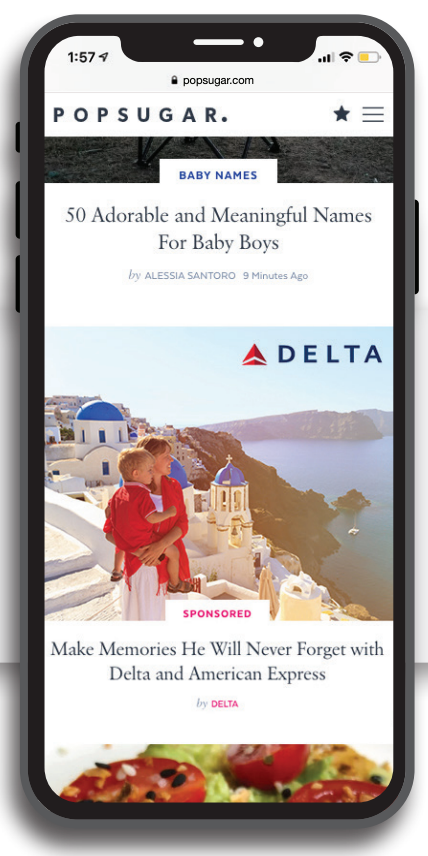 In-Content Native Ads are contextual placements within the content published by an editorial. These are placed between the paragraphs, supporting the topic of content with relevant offers. Their primary goal is, besides driving incremental audiences to brand offers, to support the User Experience of content explorer. Most usually these ads are placed on article pages and mimic the page's layout and aesthetics to boost editorial content experience.
One of the alternative names for in-content contextual advertising, which is also a part of the Zeropark Commerce Media marketing ecosystem, is Commerce Content.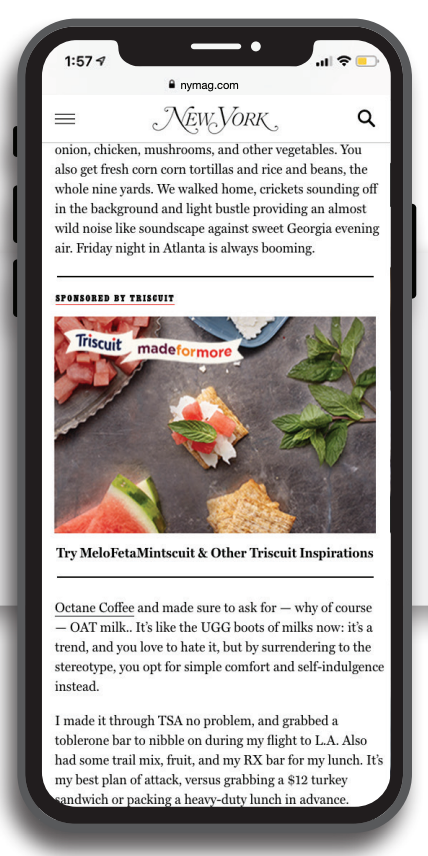 As the IAB defines, both these types of advertising can appear on:
home pages,
section front pages,
within specific content pages,
product pages,
social media platforms.
In 2023, native advertising will and should match the page layout (fonts, arrangements, design, color scheme), languages, and all the visual cues out there to create an all-around consumer experience, without overwhelming users or covering organic content.
Content Recommendation Ads
Known as Content Content Discovery Ads, Sponsored Content Ads, and Content Recommendation Widgets, these advertisements are displayed alongside other editorial content, ads, and/or paid content. Users can find these below or alongside the content, and the placements will redirect them to external or internal URLs.
They differ from In-Feed and In-Content marketing advertising by simply aiding organic content on the pages with interesting offers, but not being part of it. This form of digital advertising will support the ideas presented on the page with some suggestions, but will not be inseparable parts of it.
An example of these advertisements would be landing page sections typically referring to product recommendations, and the industry experts usually call these "Recommendation Widgets".
Branded/Native Content
Sometimes referred to as Brand Content, Sponsored Content, or Custom Content, it's a paid piece of content published in its entirety to resonate with the usual content published on said placement. It's considered Native, as although created entirely by the advertiser, it's not placed programmatically and is technically organic.
Honorary mention: Search Advertising
Search Marketplace or Search Advertising is yet another native format, although IAB does not recognize it as a separate one. Some publishers have an in-built search engine with a scope of available results, depending on the user input. Travel offer comparison sites will have search engines showing relevant search results, and so will product comparison sites, coupon sites, etc.
There are advertising formats, also within Commerce Media ecosystem, that support these kinds of highly-effective native ads. Once a user enters their search engine bar to start typing their query, relevant advertising will be displayed to them with high conversion rates.
Mainstream search engines like Bing, Edge, or of course, Google Search, offer their way of promoting content to the users. We all know and love their landing pages called SERP (search engine results pages), where besides organic search results, the target audience is shown in-feed ads with paid results. Is this part of native advertisements ecosystem? Yes, as these are shown in the same format as other proposals.
Conclusions
It's no secret that the Internet in 2023 is all about serving the user. The greatest example of this would probably be Google Search Helpful Content Update, which prioritizes original content that actually serves a purpose for audiences.
What is valued and promoted, even in organic search results, is the value carried with the content for the user, resulting in increased conversion rates, increased on-page average time by the user, and much higher click-through rates (CTRs). This all boils down to the simple fact: organic and valuable content (whether it's in-app, on the content page, or even presenting products), will be a great placement for relevant advertising.
Native ads yield outstanding results because users clicking on them are far more engaged and interested in the promoted offer than is the case with banner ads. This means that native ads don't affect user experience in a negative way, which is especially important from a publisher's point of view.
Because of that, they have proved to be a great way of monetizing advertising space. And, in light of native ads' quality demonstrated by their high user engagement, advertisers should be prepared to prepare their budgets for higher CPCs with these ads.
This is not to say, however, that native ads are perfect. It is the task of the advertisers to produce high-quality and genuine ad content, and it is the responsibility of publishers to accept ads that won't result in a consumer backlash. But with an efficient SSP-DSP matching ecosystem, the safety measures will be more than enough to entrust the quality of every single placement.