The Hottest Trends in Push Notification Ad Creatives in 2021
•
Push ads have been around for a while now. But did you know that the push ads creatives you choose can really influence the click-through rate of your campaigns?

In this article, we'll cover how to boost your return on investment in your push notification advertising campaigns.

All you need to do is focus on a few details relating to your push ad creatives, and you'll be on your way to earning more money with affiliate marketing.

Read on to find out more about push ads campaigns, and why the push ads creatives you use could lead to a higher ROI.
Why push ads?
Push notification ads are one of the most popular ad formats in online advertising (not just affiliate marketing). The benefit from this ad format is that the audience is interested in receiving web push notifications (on desktop) and mobile push notifications (on mobile devices unsurprisingly). These come on a CPC basis, which often leads to high conversion rates.
That being said, the push ads format does need a little more creativity when compared to other ad formats available within Zeropark.

Now we will guide you through how to create push ads creatives that will increase your click-through rate and likely lead to more conversions. And you know what they say… more conversions more commissions!
We are aware that creating a successful push notification ads campaign requires specific optimization and targeting skills, many tests, and persistence. In this article, you will learn how important it is to choose the best creatives for your push traffic, and what are the hottest trends and practices in push ad design at the moment.
The Push Notification Ads Frenzy Is On
Push notification ads are undoubtedly still at the top of the list of the most popular ad formats in affiliate marketing. High-quality traffic, real audience, high engagement, unparalleled ad visibility – it's just a sample of the proven benefits of push.
As you probably already know, each push notification ad, whether it's displayed on a mobile device or desktop, consists of three main elements: an image, a title, and a description/message. Each of those elements is customizable.
From our previous articles, you got to know the basics of push notification traffic, push campaign optimization strategies, and learned how to craft a copy that converts. In this article, our focus is on the images and optimizing creatives.
Trends in Push Notification Ad Creatives
Grab a cup of coffee, sit comfortably and enjoy our review of the hottest trends in push notification ad creatives.
#1. Choose a Simple and Catchy Image
In Zeropark the required image size for push ads is 192×192 px, which is… pretty small. It means that selecting a design inspired by Hieronymus Bosch paintings wouldn't be the best idea for your campaign.
Contrary to the focused on details by the Dutch masters, you need to choose something simple. More and more objects make an image too complicated and hence unreadable to your audience. Instead of making them confused, attract their attention with a simple and catchy picture, icon, or logo.
#2. Icons Convert Better Than Images
We have analyzed the trends for creative type usage. What we found out is that icons give better results than photos of real people.
Servando Silva, an affiliate marketing expert, came to the same conclusion. "I use icons most of the time as they convert better for me than regular images due to the small square size" – he wrote on the affLIFT forum.
Unreadable graphics with too many details had the worst results.
#3. Make Your Push Campaigns Green
Another important factor concerning choosing the best design for your push notification ads campaign is related to colors.
Red light raises your awareness while driving a car, it's also a warning signal in the wildlife. But it doesn't work so well in the affiliate marketing environment. Our research showed that green icons convert better than red ones. Probably people would rather feel safe than aware while surfing online.
Talking about colors, it's also good to check how black and white images work for your campaign. They are catchy and stand out from the colorful and motley competition.
#4. A Clean Image Is a Better Converting Image
As you know, push ad creative size is rather tiny. Therefore it needs to be simple and legible for your audience, otherwise, it would be harder for them to understand your message.
Although adding some additional text to your image may be tempting, leave it clean. There's enough space in the title and description sections to jot down some power words with a clear call to action incentive.
One more time: make your image as simple (and catchy) as possible.
#5. The Power of Emojis in Affiliate Marketing
Some time ago emojis took over social media and most digital communication channels. Now they are doing the same in performance marketing. Well, at least to some degree…
According to multiple sources, emojis may increase CTR up to 25-40%. Of course, a click doesn't mean a conversion (and you still have to pay for it in the CPC pricing model) but more traffic combined with a good offer and your persuasive skills may lead you to decent profits.
While choosing emojis for your campaign make sure that they are suitable for the offer.
As CleverTap analysis showed, emojis work best with these verticals: business and finance, utilities and services, retail, and – on the other hand – are not the best option for entertainment and events, travel and hospitality, health and fitness.
Don't hesitate to conduct lots of tests to select optimal emojis. We'll tell you more about it in a minute.
#6. Show People What They Want to See
You were just about to start working on a super urgent project for your job, but then one of these appeared on your screen: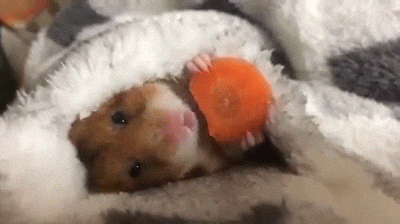 (Hard to stop watching it, I know)
In social media, there's plenty of funny movie clips, memes, or gifs like the one above. Cute animals are probably one of the biggest online time consumers of our time. It's bad news for employers but good for affiliate marketers.
A recent study presented by Taboola claims that G-rated images with adorable pets get 13% higher CTR than those without animals.
Showing people what they want to see in your push ads creatives may be successful when played fair. Otherwise, it's risky for your efforts. You could argue that the majority of men would love to receive a push ad with an image of a nude busty model. Sounds great? Quite opposite. It's the quickest way to have your campaign rejected. So, make sure you run a clean push campaign.
Play fair to gain some profits.
Push Notification Ads Love Testing
Running push notification ad campaigns can be really profitable. It's a fact. Just take a look at one of our case studies. It's also a fact that making good money on push requires a lot of work and patience.
Setting up a brilliant campaign that will bring you profits from scratch is quite a challenge. You'd rather need to run lots of A/B testing to learn which combination of copy and design converts best.
In Zeropark you can upload up to ten different copy-image combinations. The traffic will be distributed evenly among your ads, so you can see which creatives give higher revenue and pause those that are not converting. We strongly recommend using all ten slots at the same time, at least at the very beginning. It will help you decide, which copy-image combinations work best for your offer (and leave only those converting ones).
While split-testing your creatives you need to be patient and precise. Below you will find a couple of tips.
How to Conduct A/B Tests Step by Step
Start with a couple of different copy-image combinations.

No conversions? It's time for changes. If you're certain you need big modifications, as your first ideas were completely wrong, make them now.

Better, but still struggling to make profits? Make small changes to optimize your push ad campaign (slightly different creative, little copy changes, adding emojis).

Don't make too many changes at once, especially when the performance isn't very bad. Otherwise, the test result will not tell you anything.

Analyze tests results, pause creatives that don't convert to maximize your profits.
Don't be afraid of A/B testing and experimenting in order to learn how to optimize your push notification ads campaign.
Even if you're lucky enough to start with a profitable combination of catchy image and masterpiece copy, soon you'll have to make changes in your campaign design due to ad fatigue.
Simply put, ad (creative) fatigue occurs when its targeted audience has seen it too many times. It may be a great creative and tempting copy but after some time people will just have enough of this. We suggest changing creatives in push notification ads campaigns every 3-5 days.
If the offer is great and you feel you can earn more from it, make changes and get your profits.

Conclusions
There are many ways to optimize your affiliate marketing campaigns with the push ad format. You know by now that it's not just the creatives that make or break an affiliate marketing push ads campaign. However, if you aren't optimizing them through a/b testing and changing them regularly then your competitors are likely going to win more conversions than you.
So, run your push campaigns with smart affiliate marketing in mind. That's how you create successful push ad campaigns, it's really that simple.